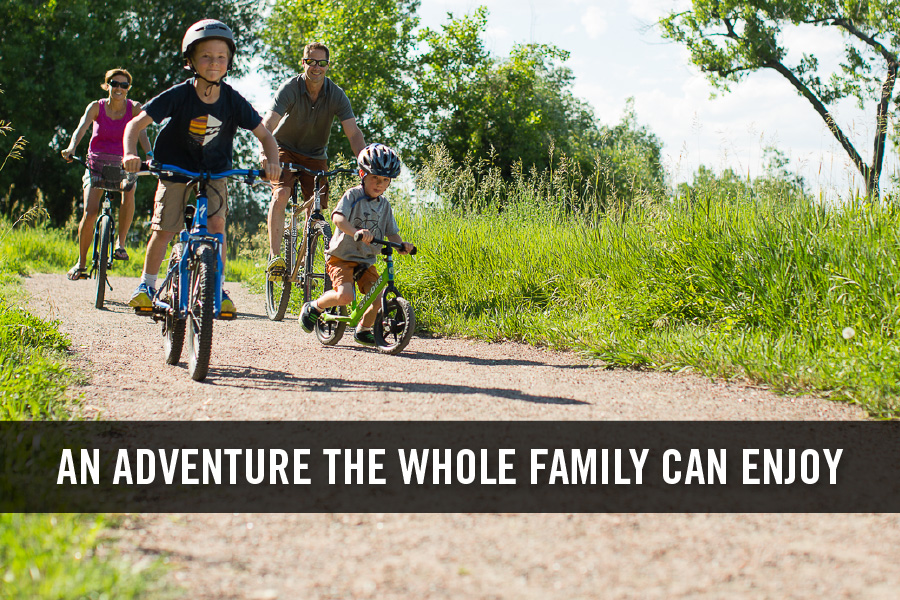 Bring a little backyard adventure to your neighborhood cruise by taking the whole family to dirt. Whether you're towing the kids in a trailer, watching their first pedal strokes, or wondering when they got so darn fast, dirt paths and soft-surface trails offer bike experiences the whole family can enjoy.

Easy grades, smooth surfaces and scenic views make rail-trails excellent dirt destinations for families. Find a rail-trail near you with this tool.

» It's about the journey, not the destination. Invite young riders to explore their environment through games like I Spy, scavenger hunts, or by bringing along a magnifying glass for studying bugs, rocks and little brothers.
» Have a plan B (and C…maybe D, too). If anything about kids is predictable, it's their unpredictability. Having options for early bailouts and ride extensions lets you roll with the flow.
» Pack a picnic and enjoy the moments off the bike as much as those spent on it. Kids could be riding past the Seven Wonders of the World, but what they'll remember most is splitting a sandwich with mom, dad laughing at knock-knock jokes, and the perfect climbing tree discovered along the way.

» Wide and low is the way to go. Wider tires with lower pressure offer the grip you need and the comfort you want, making the tires found on most hybrids, cruisers and children's bikes great for dirt.
» Pamper your bottom line. Padded bike shorts offer extra cushion that may be desirable on rougher surfaces.
» The best part about riding dirt roads and paths is that you can "run what you brung." So grab your trail-a-bike, cruiser, or that bike that's been sitting in the garage so long you've forgotten what color it is, and go have fun.