Michael Andersen, Green Lane Project staff writer

Cathy Tuttle of Seattle Neighborhood Greenways on the Fremont Bridge in 2014.
Words and images shape thoughts. But inside and outside of city government, too many of us stumble with finding the right words and images to explain the advantages of biking.
There's a word for the wave of public misunderstanding and anger that often happens next: bikelash.
Fortunately, bikelash is a curable condition.
In a free webinar last week produced by the Association of Bicycle and Pedestrian Professionals, I talked to two people who've personally helped their cities reverse the ravages of bikelash and become national leaders in biking improvements: Cathy Tuttle of Seattle and Doug Gordon of New York City.
Tuttle, executive director of the advocacy group Seattle Neighborhood Greenways, works with her colleague Gordon Padelford to develop resources like these that help her fellow biking believers choose language that makes people feel included in the benefits of bike improvements: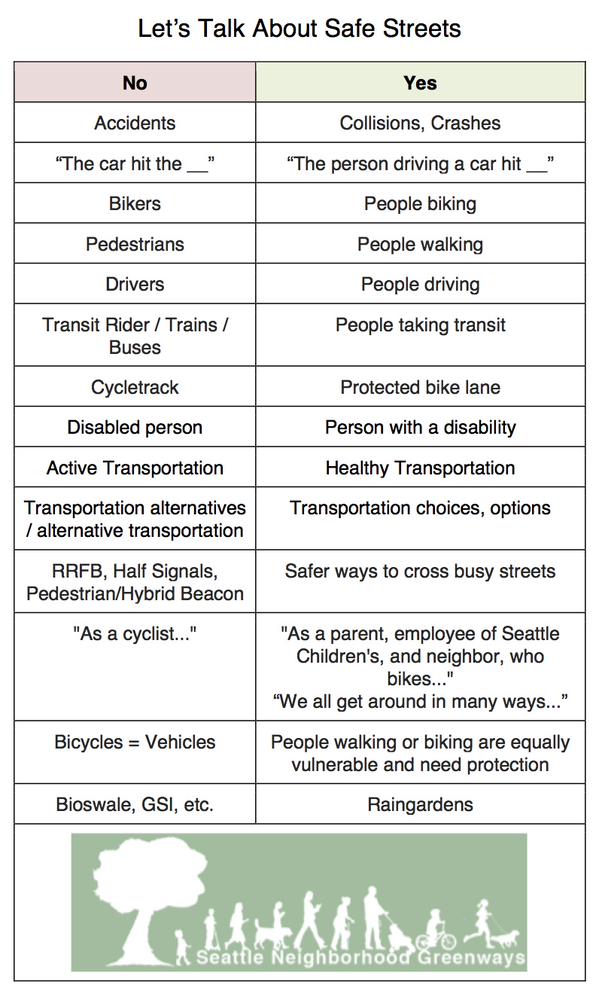 Seattle Neighborhood Greenways' cheat sheet for neighborhood advocates and city officials.
And Gordon, a TV producer who moonlights as author of the blog Brooklyn Spoke, is a master of images that subvert anti-bike stereotypes. My favorite story of his would be the time he managed to get this photo attached to this newspaper caption:
The 70-minute webinar featured a 12-minute presentation from each of them about their work and principles, followed by a conversation among the three of us (supported by questions from the more than 100 people who attended from around the country) that dug deeper into their methods, practices and tips.
Interested in more wisdom from the experts? Check out our archive of past webinars about protected bike lanes. We'll be back with more APBP webinars on related subjects through this year.
The Green Lane Project helps U.S. cities build better bike lanes to create low-stress streets. You can follow us on LinkedIn, Twitter or Facebook or sign up for our weekly news digest about protected bike lanes. Story tip? Write [email protected]
We're part of PeopleForBikes. Follow the broader story of bicycling on Facebook and Twitter too.