Kristin Butcher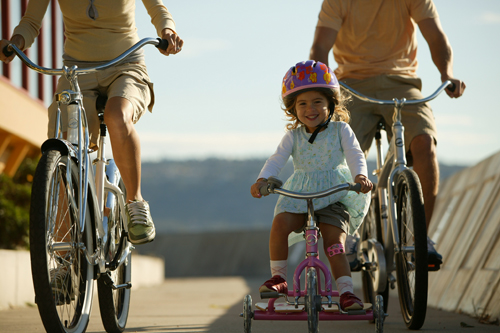 According to Bikes Belong, 27% of kids (13.7 million individuals) ages 6 to 17 bicycled in 2010, for a total of 989 million bicycling outings (72 outings per bicyclist.).
The other day, I was embarking on one of my favorite activities: riding around town with my family. With my four-year-old attached to my bike on one of those newfangled trail-a-bikes, I took him straight over a small section of bumpy rocks. I assumed he?d ridden on rocks before. I?d assumed he?d enjoy bouncing up and down. I assumed he?d think riding rocks was cool.
?Mommy, that was NOT cool,? I was quickly informed.
Here I was, in the middle of a bike ride with my son, and I?d just broken one of the major tenets of cycling: I didn't ride predictably. And though this lesson was reinforced with a few tears (his) and pangs of guilt (mine), I realized this wasn't the first lesson on cycling I?d received from my pint-sized wheelman. Actually, now that I think about it, I?ve learned just about everything I know about riding with traffic from my kiddo.
It's hard to share. If you?re into watching the world burn, get a bunch of toddlers in a room and give them exactly one really awesome toy to play with. It's not long before a sweet group of mini-humans turns into Lord of the Flies. Even after decades of practice, it can be difficult for adults to share, whether it's cars stuck in rush hour traffic, vehicles and bikes sharing a narrow street, or cyclists and walkers vying for room on a popular multi-user path. Sometimes just admitting sharing can be hard makes it easier. You know?to share. As in, the road.
Don?t ride like a ninja. It doesn't take a four-year-old to know that ninjas are awesome, but riding with traffic is not the time to be stealthy and unseen. Instead, being visible is the name of the game when it comes to riding with traffic, so break out the superhero colors and go berserk with blinkies. Just don't get your cape caught in the spokes.
Eye contact is powerful. Every parent has realized the power of eye contact. A look can be used to correct your kid's behavior from across the room, let them know that they did a great job, or to share a stifled laugh with your partner after explaining to your toddler why he's not allowed to fart on the cat. On the road, eye contact is a cyclist's best defense against distracted drivers or those unaware of who has the right of way.
Be predictable. People driving past a cyclist are often more nervous than the cyclist. No one wants to make a mistake, especially when that mistake involves a thousand-pound vehicle. Using hand signals, following the rules of the road, and making sure everyone (including the kid on the trail-a-bike behind you) knows what your next move is going to be can save tears and guilty pangs.
Expect the unexpected. When my son was only a baby, I laid him on the floor for a few minutes of naked baby time, a move I regretted when he began crying confusedly as a perfect rainbow-shaped stream of urine landed in his mouth. Even when you think you know what the next few moments will bring, prepare for anything whether it's a car turning, a unexpected pot hole, or being surprised by the worst rainbow of your life.

Kristin's husband and son exploring Boulder by bike. (Image: Kristin Butcher)
Kristin Butcher is a freelance writer based out of Boulder, Colorado, she spends her time writing about people, the outdoors and, of course, bikes. You can read her column, Butcher Paper, in BIKE Magazine.