Sarah Braker, communications manager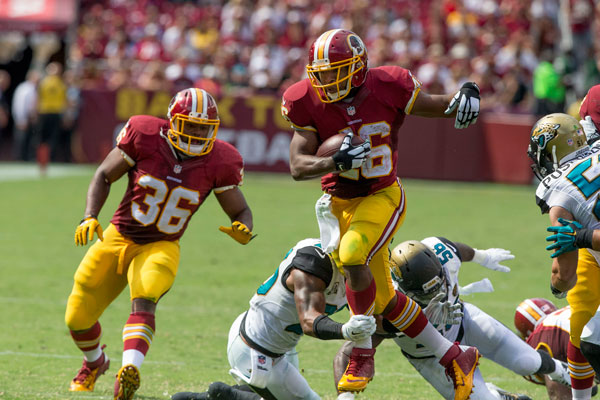 Alfred Morris runs the ball on the field and bikes off of it. (Image: Keith Allison)
Alfred Morris, a top NFL running back for the Washington Redskins, is always looking for an advantage on the football field. "I've never been the biggest, fastest or strongest," he says, "but if I can outlast my opponent, then I can win."
One way he gets that edge is by riding his bike to work. "I really like it," he says. "It's less wear and tear on the body and I can get extra cardio." During the regular season, Morris usually rides to work Tuesday through Thursday, and his eight-mile ride takes him along a trail to the Redskins practice facility in Ashburn, Virginia–a hop and a skip, he calls it.

Morris' bike parked in his parking spot. (Image: Jeff Darlington) 
Another NFC East superstar who bikes is Connor Barwin, a linebacker for the Philadelphia Eagles. Barwin also rides to practice, three miles each way, usually on his single-speed bike. "It's a great way to learn about your community," he says. "I do it because of what you see when you?re riding a bike."
As professional athletes, Morris and Barwin know they have the ability to influence their peers and fans. Both hope that others follow their leads and start commuting by bike. "I think people forget how enjoyable it is," Barwin says. "When I'm doing it people see me and I think sometimes it does spark their interest to jump on if they haven't in a while." Morris agrees. "If I can encourage just one person to get on a bike that's awesome and more than that is a bonus."

Connor Barwin is the unofficial bike ambassador for the Philadelphia Eagles (Image: Philadelphia Eagles)
Getting the hang of a new route, and buying some bike shorts–"the seat kicks your butt," he jokes–were two barriers that Morris had to overcome. Because he rides on a trail, he's not worried about cars, but he would be happy to see some new bike lanes in Virginia. ?I think it would be better if there were bike lanes,? he explains. "I wouldn't mind riding the roads."
Barwin has seen firsthand the change that infrastructure can bring to a city. "I'm super excited about the bike share program," he says, "Philly is ready to become a super bike-friendly city. Because of how dense the city is, bicycles are a great way to get around."
Besides the increased fitness, what's impressed Morris the most is the connection he feels to other bike riders. "You don't realize how many people are out there," he says. "You get a sense of community when they give you a wave or a nod." Barwin is even doing his part to spread that sense of community to his teammates. "They want me to get them bicycles and since I've been here I've gotten bikes for a number of guys."

Kids at heart, the Packers connect with their fans while riding bikes to Lambeau Field.
Morris and Barwin aren't the only ones in the NFL who are excited about biking. The Green Bay Packers are well known for their annual bike ride with local kids on the first day of training camp. David Bruton of the Denver Broncos is so passionate about bikes that he has a bike tattoo.
Thomas Dimitroff, the General Manager of the Atlanta Falcons is more than just a rider–he's an advocate who works hard to use his platform to promote bicycling, better riding in Atlanta and the nationwide efforts of PeopleForBikes. And the love of biking extends to retired players as well, from Ray Lewis to Bo Jackson, who runs an annual charity bike ride in Alabama.
On a typical Sunday, Morris and Barwin are on opposite sides of the ball playing for rival teams. But when it comes to transportation, they're in total agreement. "I truly just enjoy riding my bike," Barwin says. "Riding a bike makes you feel better, it gives you more energy," Morris adds. "The more you do it," he explains, "the easier it gets."
Know other pro athletes who bike? Help us build our list. Send an email to [email protected] And thanks to basketball legend Bill Walton and six-time NASCAR champ Jimmie Johnson: they're already on board!