Michael Andersen, Green Lane Project staff writer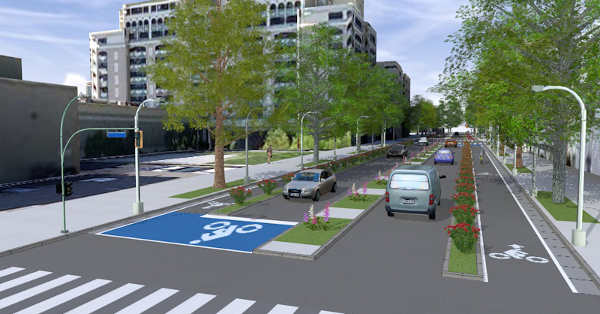 All images: Used by permission. Copyright 2015 Esri. All rights reserved.
Last fall, we wrote about protected bike lanes starting to appear in Lego design books. They're becoming standard in top-of-the-line urban planning software, too.
CityEngine, a program developed to help Hollywood heroes like Superman and Baymax swoop and spin through cityscapes, was bought by by GIS software giant Esri in 2011 and has now been tweaked into a land use and transportation planning tool that can create 3-D models of real cities for on-the-fly modification and analysis.
"People need a flexible design environment to look at alternatives very quickly," said David Wasserman, an urban planner hired by Esri last year to help make CityEngine's street modeling tools fully multimodal. "You can take them through these corridors and let people see the changes as you do it."
Here's a video Wasserman made of the software in action with a model of San Diego, showing how the program could be used during a public meeting or planning conference to show people how rolling down a street might feel:
On the right, CityEngine's set of drop-down menus and other tools let a planner adjust the parameters of a street, including the presence, width and appearance of bike lanes, buffers and separation methods. There's even a measurement built into the interface, based on the formula used in a federally funded 2012 study, of the level of stress a person on a bike is likely to experience.
That and other parameters can be adjusted by users using a modifiable set of "rules" that comes as part of CityEngine's package.
CityEngine is built with its own programming language called Computer Generated Architecture. People who learn that language can further expand the range of software options, including adding new bikeway designs to the program's global library of possibilities. (For example, raised bike lanes aren't yet available.)
A single-use license for CityEngine costs $500, and Esri offers a 30-day free trial. More advanced versions offer source-code customization (in the Python langauge) and integration with Esri's flagship ArcGIS product. But whether or not this package is right one for your city, it's great to see a big company like Esri following in the footsteps of indie developers to help street designers communicate new ideas to the public and one another.
"It's the start of a conversation in general of how can we visualize change," Wasserman said.
The Green Lane Project is a PeopleForBikes program that helps U.S. cities build better bike lanes to create low-stress streets. You can follow us on Twitter or Facebook or sign up for our weekly news digest about protected bike lanes. Story tip? Write [email protected]