by Meredith Powlison, PeopleForBikes West Coast events crew
On our travels out west, we often find ourselves surrounded by people on vacation. This is no coincidence. We've gotten pretty good at picking fun routes to the events we attend and we've also been lucky enough to pass through a handful of National Parks. With our bikes on top of the car, it's easy to get out for a ride. Plus we find that biking through the National Parks is often the best way to see it??slower than driving through and quieter without a shuttle bus narrator.
A few things we've learned along the way:
Ride first thing in the morning for quieter roads and cooler temperatures.

There are often stops along the way where you can fill up water bottles and find a restroom. Check out the park map before you go and look at bulletin boards to see if any water sources are closed.

Some parks have bike lanes that lead up to the entrance. It can be cheaper to enter on a bike than in a car.

Take into account that cellphone reception is often spotty or nonexistent.
Here are some of our favorite National Park rides so far this summer:
Arches National Park
Arches National Park was awesome because is so close to Moab, so there are a lot of options for good post-ride snacks. We rode from the Visitor's Center, off of Route 191, which is the lowest point in Arches (4,085 feet). The road through the park immediately goes up a sizeable climb, so make sure you are well caffeinated and hydrated ahead of time. After the initial climb, you'll ride past some spectacular scenery, like Courthouse Towers and Balanced Rock. We continued on for about 14 miles into the park and the 28-mile round trip included 2,880 feet of climbing. You can make a much longer ride out of this one, too, if you're feeling like a challenge. It gets hot in the desert, so ride early! Plus there's less traffic in the park in the morning.
Grand Canyon National Park
Our ride through along the Grand Canyon's South Rim was a mellow one, with lots of stops at viewpoints along the way. From Grand Canyon Village, we rode west on Hermit Road, an 8-mile road that ends at Hermits Rest. Only Grand Canyon shuttle buses are allowed on the road from March to December, so it is pretty quiet to ride. However, the buses can't pass riders unless they are stopped, so make sure to move over if a bus approaches. There are many awesome stops along the way where you can see the Canyon and the Colorado River below, like Hopi Point and Pima Point. It's relatively flat and there's also a bike path that runs adjacent to the road for the final few miles. Watch out for elk! They are everywhere.
Joshua Tree National Park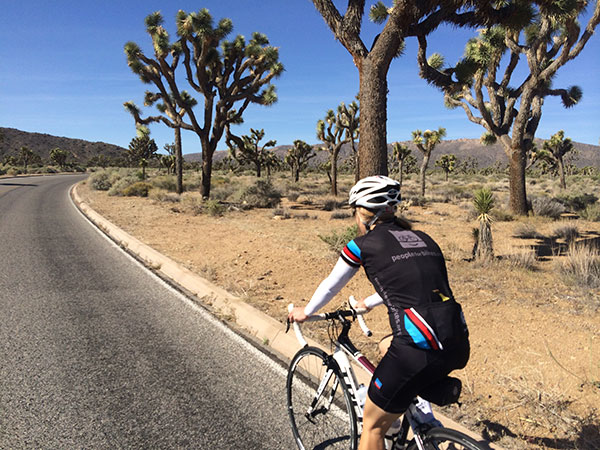 This is where to ride when you're looking for the elusive Lorax. Located in the Mojave and Colorado deserts of southeastern California, there are several options for road riding in Joshua Tree. Our 50-miler took us from the Jumbo Rocks campground out to Keys View. The road through the Mojave Desert has, of course, many Joshua trees and some very cool rock formations. The climb to Keys Views, at 5,185 feet of elevation, was made easier due to a tailwind when we rode; from there, you can see the San Andreas Fault and Coachella Valley below. From Keys View we headed out on Park Boulevard to the West Entrance by Joshua Tree Village, which included a good climb on the way back into the park. Since it's the desert, ride early in the morning when it is cooler out. And don't forget to check out the Cholla Garden
Zion National Park
Like the Grand Canyon, Zion's main road is also restricted to shuttle buses with the same rules in play. The ride along the Zion Canyon Drive in southwestern Utah is amazing. You'll pass under beautiful sandstone cliffs, see famous landmarks like the Three Patriachs and Angels Landing and ride along the Virgin River. If you go in April like we did, you'll also see a lot of windflowers. The scenic drive ends at the Temple of Sinawava, where the Zion Narrows begins. If you've got time, make sure you get some hiking in to check out the views of the canyon from the top.
Have you been on any awesome rides through the National Parks?