Sarah Braker, communications manager

Will these ladies help propel Atlanta to the top of the heap? (Image: Atlanta Bicycle Chic)
We are now three months into our eight-month advanture to find the best U.S. city for an activity we like to call "everyday biking": casual, utilitarian trips to get around town. To explore this, we found nine cities around the country willing to pick one intersection and count both the number and the ratio of skirt/dress wearing bike riders that passed by from 4:30 to 5:30 p.m. With the weather warming up we expected some pretty high numbers. We also got some surprises, including kilts, tutus and a few togas.
(The challenges will change each month. For July, participating cities will be counting people riding in Lycra or spandex.)
As in previous months, the competition was passionate and fierce, and almost everyone was dressed for success.
First, we?ll mention a few cities that seemed to skirt the issue. There were only two skirt-wearing bike riders spotted in Denver. Maybe the intersection of 15th and Glenarm just isn't popular among those who prefer to ditch pants and shorts while riding. There were 121 other bikers spotted, so there's still hope for Denver to score some big points in the coming months. Pittsburgh also came in low, with four skirts/dresses spotted between 4:30 and 5:30 pm at the intersection of Penn Avenue & 10th St.
Chicago saw a total of 459 people riding at the intersection of Milwaukee and Huron, and 15 of those riders were in skirts or dresses. Unlike the rest of the cities we surveyed, the weather in Chi-town did not cooperate. It was in the low 60s and drizzling during the Windy City's count, not exactly what you would consider to be prime skirt-wearing weather.

Who knew kilts were so popular in Tucson?
So where did we see higher numbers of people riding in skirts, etc.?
Despite temperatures hovering around 100 degrees, the bike riders in Tucson came out in force for this month's challenge. According to Kylie Walzak of the Living Streets Alliance, several participants were spotted wearing multiple layers of dresses over skirts, with tutus on top. There were even two men in kilts. ?I can't emphasize enough how committed these folks are, given the heat.? Walzak said. Tucson came in at 226 total bicycles, 130 of which were being ridden by people wearing skirts, dresses, tutus, kilts or a combination thereof.
Summer has also arrived in Atlanta where the temperature at count time was 93 degrees. Of the 90 bicyclists who passed by on the 10th Street protected bike lane, 23 were in skirts, including one man in a grass skirt. According to the folks at the Atlanta Bike Coalition, Atlanta's numbers were helped out by the Heels on Wheels, a group of women who ride bikes in and around the city. That's them in the photo at the top of the blog.

Nothing like a tutu to beat the heat in Memphis, right?
The fine people in Memphis wanted us to know that in addition to temperatures in the 90s, they also had 89% humidity during their count. But it might have been those conditions that added to their total, which came in at 29. As with past counts, Memphis and Tucson seem to be developing a real rivalry when it comes to everyday biking. But will one of them reign supreme this time around?
Moving out to the Pacific Northwest, we received counts from both Seattle and Portland. In Seattle, 504 bikes were counted at the Fremont Bridge (Albion & Freemont) and 28 people were in skirts. Portland, meanwhile, counted 20 skirt/dress wearers plus one person riding in a tutu. Carl Larson of the Bicycle Transportation Alliance noted that there were as many men riding without shirts as there were people in skirts.
Some months have seen close calls to determine the winner. This was not one of those months. If we were looking just at the sheer number of skirts and dresses observed, Tucson trounced the competition, as you can see in the chart below.
Things got a little tighter when we looked at the share of skirts and dresses among the total number of bikes. Atlanta moved ahead of Seattle and Chicago fell behind Pittsburgh. Still, Tucson maintained a comfortable lead.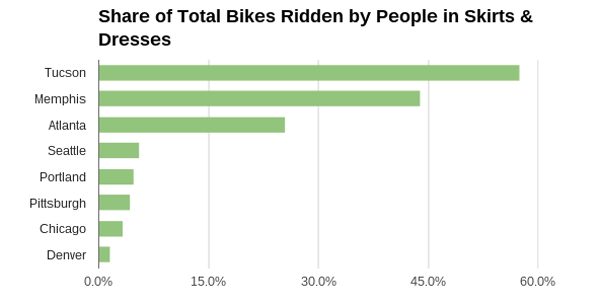 Finally, we wanted to determine the overall winner. To do this, we took our two metrics (number of skirts and proportion of skirts) and graded each one on a curve. The top-scoring city in each category got 100 points and other cities got points in proportion to their own relative scores. Then we averaged the two equally-weighted scores. As you can see, Tucson once again came out on top.
Congrats to Tucson for a big win this month. And stay tuned for the rest of our challenges, which are:
July: Lycra or other spandex kits
August: kids on bikes (passengers included)
September: business attire (jackets, blouses, ties, office-friendly skirts and dresses)
October: costumes
November: beards
Together, these counts will help us determine the champion city for "everyday biking" by the end of 2015. See you next month.