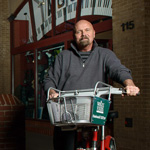 Click a thumbnail to read that person's profile, or scroll down to browse them all. 
Cara Sturm
"We did the bike share one night in December when they were doing the rollout when it was $1 and we did that and we had a blast!
I am originally from Houston, moved to Austin in June of 1998. I'm in real estate, I'm a broker associate with Keller Williams and I'm an Austinite now, I've been here long enough!"
What's your favorite thing to do outside? "I like to hike and I can't really run and I have knee problems so I try to keep it low-impact, so that's why the biking around town is really low-impact and it's a great way to get across town without your knees killing from all the walking."
What do you think about the B-Cycle bikes? "I tried them once in the December roll-out and I love them! I love the SXSW bike, I thought that was fun. I love that they each have their own little decoration on them or design. I love them. I love the basket, the light, it comes with a lock, it's too cute! I want one!"
What's your favorite part: "The basket! You know, every girl's going to say the basket. It's definitely the basket. It's the best part!"
Do you ride your own bicycle? "I don't."
Do you have a favorite bike memory? "My childhood I had a purple unicorn banana seat bike and it was my favorite and I just thought I was the coolest when I got that bike, with the little streamers coming off of it and the bell."
Edward Quintana
"My name is Edward R. Quintana, I'm retired from the El Paso police department. I was in the department for 24 years, we moved to Austin back in June of 2012 and I work at the Federal Courthouse as a court security officer."
What do you think about B-Cycle? "I first saw this type of a program in San Antonio and when I first saw the rack there by the courthouse I said, "Wow, this is right up my alley!" And then I saw another station at the Metro rail, which is on 4th and Trinity, and I said, "Wow, this is it, this is for me!" I started enquiring about it, I signed up immediately, and when I catch the metro rail, I get off right there, pick up a bike and cycle on down to the courthouse and there's another rack there. And there's where I work right there so I'm able to take the bike right where I pick up the train right to my front door at work and vice versa after I get off."
What's your favorite part about the B-Cycle? "The basket because I can put my backpack in it and the speed, it's got 3 speeds and it's really comfortable, very comfortable really."
Will you use B-Cycle often? "Yep, five days a week!"
Favorite bike memory? "When I was in the fifth grade, when I had my bike, I wasn't allowed to take it to school, but I took it anyway and I ran over one of my favorite buddies and I knocked a tooth out of him and after that we became best friends and I gave him that bike and I bought another bike!"
Frances Tsukano
"Name's Frances, I've been in Austin about 3 years, here I work in sales for an IT company and I come from Wisconsin, wanted to get away from the cold for a while."
Where do you ride? "I go to Zilker a lot, so I ride there, it's a really easy ride downtown, a lot safer to bike ride downtown, safer, cheaper and everything about it is better."
Favorite bike memory? "There was a stolen bike incident, so Austin B-Cycle is a great idea because you don't have to worry about your bike getting stolen because it does happen—Austin is a big city. I've had some good rides in general; it's a beautiful city, fun to check out on bike. It's getting more bike-friendly, which is nice, with more bike lanes coming in every year, but it can be frustrating because sometimes they can just disappear.
Do you see yourself using these bikes very often? "Yeah, definitely when I'm not using my own bike, I'll check out the B-Cycle bikes and maybe even for something like "Music at the Park" at Zilker would be a good idea."
Fred Schmidt
"I am an Austin entrepreneur of 24 years and I came here from the Washington D.C. area and originally from Europe."
What's your favorite thing to do outside? "Mostly running around between all of the things that I do and I do that on bicycle. I live downtown, all of my businesses are downtown, so a bicycle, whether it's my own or a B-Cycle are what I use to get everywhere I go."
Have you tried B-Cycle? "I sure have, I've got my card! I'm a card-carrying B-Cyclist. Oftentimes I have my own bike that I ride into town, but I'm finding continued new uses for the B-Cycle in my world"
Why are you a fan of bike sharing? "From a retail standpoint, obviously the best thing is to have people walking on the ground because it's a very slow pass of the retail storefront to engage people with your windows and get them in the shop. People in cars do us absolutely no good because they're driving by and they say, "oh, that's a cool place, I'll go there someday," and they never do. And so bicycle now opens up this whole new opportunity and this whole new vista of those in-between customers who, as they're rolling by on the bicycle, they're actually at a slow enough pace that they can take something in and they're totally in control of their transportation to be able to just hop off, put it up on the curb and park it. So we're finding actually that we're getting more and more customers just in the short time that B-Cycle has been in Austin because they all ride 6th Street, they all ride 2nd Street, where we have our stores, and so we're getting people that are on B-Cycles as customers and we didn't think that would happen so quickly."
Jenny Clark
"I am from Columbus, Ohio, I just moved to Austin in July for a job here at IBM Design so I just graduated from the Ohio State University with a Bachelor of Science in Industrial Design and I'm doing user experience design here at IBM in Austin so I'm excited to be here."
What's your favorite thing to do outside? "Ride my bike."
How do you see yourself using the B-Cycle? "I would see myself using the B-Cycle to go and explore the east side more. That's kind of my next thing, next frontier. I live downtown and I just saw the B-Cycle pop up right in front of City Hall and so the east side is just calling my name. I'm looking to explore the coffee shops and the bars over there, so I could see myself waking up on a Saturday morning and grabbing a cup of coffee and throwing it in the little basket here and making my way over to the east side and getting another cup for a refill."
Do you like riding downtown? "Yes, but it makes me a little nervous because I feel like I never have the equipment to keep me safe, like my bike lights aren't bright enough or maybe my helmet isn't strong enough, so I'm hesitant to ride at certain times of the day, bright or dark, because I'm nervous that I'm going to get hit."
Where do you like to ride? "Around my house, on Congress, the north part of Congress, and just the downtown area just to get some fresh air and sometimes I talk to people if I'm stopped somewhere. That's kind of my most ridden ride."
What's your favorite bike memory? "My favorite memory is from college and that's when I had first gotten my new bike, my SE Draft, and I was running late for class and I had 5 minutes to get to class, which would never in the past get me there, but I had this new, fast bike that was so light and so I threw my t-square in my bag and all of my design books I had in my hand and I just zoomed to class and got there a minute early because I was able to kick ass on this new bike so I will never forget being able to always be late for class, so to speak, and I could just get there. Procrastination at its finest, folks!"
Kate Harrington
"I have my own communications business and I do some ghostwriting and some copywriting and social media communications type stuff, white papers, and I work with a couple of organizations around downtown Austin, like the Downtown Austin Alliance and Movability Austin. I am originally from Massachusetts but I've been here in Austin for 11 years, so I guess I'm staying, long enough to say 'I remember when Austin was…' whatever. I've seen a lot of change."
What do you think about B-Cycle? "I haven't ridden them as much as I'd like to, but I have tried them out. I love that it's a fun, easy way to get around downtown. It was really easy for me to use, as a first-time user it was really clearly explained, it was easy to get it out of the dock, easy to return it, easy to ride and adjust the seat up and down. I'm all for easy, user-friendly and I'm really looking forward to having more stations around."
Where did you ride B-Cycle? "I pretty much just rode from this station down to the end of Congress."
What's your favorite part about B-Cycle? "This is going to sound really stupid, but when I got on, I was like, 'uh-oh, this is too tall for me,' and I'm not really adept at moving things around, so I was pretty thrilled that I figured that out quickly and it was easy to adjust."
Do you like the color? "Red's my favorite color."
Favorite downtown ride? "I like getting off of Congress and riding down some of the less traffic streets, the side streets."
Places you'd like to try using B-Cycle? "I'd really like to convince my husband to have a daylong date and do something like take the bikes from downtown to South Congress or vice versa and make a day of it and hang out and stretch out as much as we can between stations, so something more like restaurant-y, shop-y type things away from the downtown area."
Do you have your own bike? "Yeah, I do, I have a whole shed full of bikes, but I don't use them that much anymore!"
Favorite biking memory? "Just the first time I got a real bike of my own, my first 10-speed, I remember, I was lucky enough to live in a neighborhood with a lot of kids my age and just that feeling of freedom that you could take your bike and go meet other kids and just go ride around, it was that first childhood taste of freedom and having my own set of wheels."
Will Godwin
"I've been here in Austin since 1978 and I work with special audience marketing here in town and ride bicycles a lot and use them to come downtown, particularly on dates, for entertainment, bars, restaurants—we try never to drive downtown, so B-Cycle is going to be a great help to us and it's going to help get some of these cars off the street and help us not get hit."
How do you use B-Cycle? "It's too cold to ride a long way before basketball so I drive down to the Y and then I get a cycle to do business in town—sometimes I need to go to the bank or do something in town, so that will be tremendous. Also if we're sometimes walking on the trail and then want to do an errand, it's going to make it really easy."
What's your favorite bike memory? "These bikes take me back because this is the type of bike we rode when I was a kid—it's sturdy and they're going to last a long time."
Sara Smith
"I'm the program director of a local non-profit and we do transit advocacy work, I'm also a lawyer and I just moved to Austin from Columbus, Ohio about six months ago."
What are your thoughts about B-Cycle? "I really like the B-Cycle bikes, I think it's a great opportunity for Austinites to have an alternative to travel and it's fun for leisurely riding and I have had the opportunity to ride them."
What's your favorite part of B-Cycle? "How quickly it allows you to get from one side of downtown to the other so if I'm running late for a meeting I can quickly grab one and hop on and ride it over there."
What do you think about the color? "I like it! I think it's cool because it lets drivers know that maybe you're not an avid bike rider but you're just doing this for fun, so it makes you more noticeable."
What's your favorite downtown ride? "I actually ride it for work sometimes, so I like riding it down Congress, surrounded by huge building, it's fun."
What kind of bike do you ride? "U-District, it's a small road bike."
Favorite bike memory? "I think the first time riding a road bike, it was really exciting. When you're used to mountain bikes, and how much effort it is to pedal quickly, getting on a road bike and really zooming down the road really fast and with minimal effort was really great."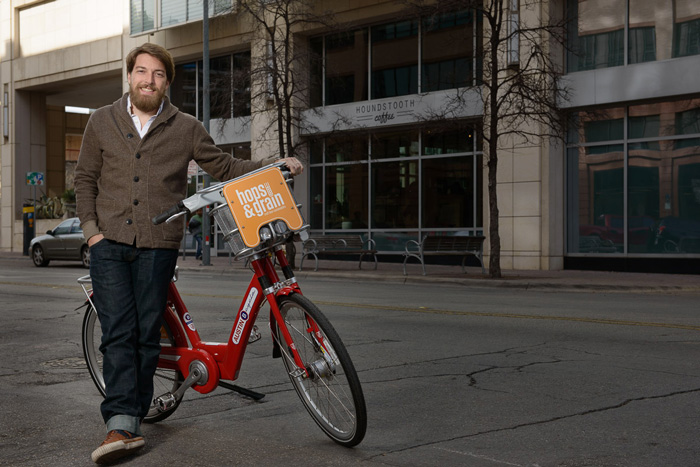 Paul Henry
"I work at Houndstooth Coffee, I've lived in Austin for 10 years, moved here after I graduated high school, like the week after I graduated high school. I grew up in Richardson and picked up and moved pretty quick after that. I love Austin, I don't really want to live anywhere else. I spend a lot of time drinking coffee and I spend a lot of time at work, but it's not so bad. I've been married for 2 years, my wife's name is Stephanie and we have a lot of fun together."
Do you have a bike of your own? "I don't, my bike was stolen out of my car a few years ago and I never replaced it."
Favorite bike memory? "I spent a lot of time on bikes when I was a kid, we did that a ton when I was growing up was just go ride around the neighborhood. When I was in college I would ride from East 11th over to UT and back. Then me and my college buddies would go on pretty common midnight rides together."
Do you see yourself using B-Cycle? As needed, especially if I'm running late to a meeting and it's a little bit too far to walk. If I was entertaining people from out of town and they wanted to ride around town I would absolutely pick up a B-Cycle and show them around town.
Larry Graham
"I grew up in Kansas City, lived in a few different places, but I've been in Austin since 1992. I work in Texas Gas Service, the manager of regulatory affairs and I'm our liaison to the City of Austin. I'm also the Board Chair of the Downtown Austin Alliance, which is the property owners association downtown so we advocate for downtown."
What's your favorite thing to do outside? "I like to bicycle, so I like to commute but I like to do recreational riding, so I have some friends where we'll go out and ride 20 or 40 miles on the weekends, sometimes we go mountain biking, so I am a bike enthusiast. And it's nice in Austin because you can bike all year round."
What are your thoughts about B-Cycle? "I've probably used B-Cycle a dozen times so far, I've actually ridden them in 4 other cities and I actually had the good fortune to go to Paris this summer so I rode their bike share system there, which was pretty cool. My office is just a couple of miles outside of downtown but I am downtown 3 or 4 days a week, so what's cool for me is to be able to park the car and use the bike share to go to different meetings and if I'm six blocks away from one meeting to the next to worry about having to drive or worry about parking or something. I just enjoy riding my bike, so there's something nice about, in the middle of the day, even just for 10 minutes, being able to ride downtown. The other day I saw some people I know on the street and they said, "What are you doing? What are these red bikes? Why are you on these bikes?" so that was pretty fun."
What's your favorite part about B-Cycle? "You know it's fun because it's upright so I've seen buildings, I've seen people, I see things that I don't normally see when I'm riding my road bike. It is a tad bit heavier and I'm at the tall end of the spectrum, but for where it's supposed to be, to ride a mile or two, it's good."
Do you see yourself using them often? "I'm really excited for the expansion, so that will make it nice and more likely to use it. I have my own bike, but I'm surprised at how much I use it."
Favorite bike memory? "The summer after I graduated from college, a friend of mine and I rode from Maine to Seattle, so that was 4,000 miles. And I took my daughter in a trail-a-bike and she was 5 and we did the Katy Trail in Missouri, like the 220 miles of that, it's one of the longest or at the time it was the longest, so it was perfect to do something like that."
Kelly McMahan
"I'm from Houston, been in Austin about 10 years and I work for a local messenger company called "Pronto Beat the Clock."
What's your favorite thing to do outside? "Hike around, ride my bike, play with my dog."
What are your thoughts about B-Cycle? "I think it's a great idea, I've already seen a lot of people riding them and I've just gotten to putz around on them a little bit, but I think it's a great idea."
Do you see yourself using it often? "Yeah, especially when we have friends in town that don't have a bike then we can just pop them on one and ride around the city."
Favorite ride downtown? "Sunday morning ride because nobody's out and the city is quiet, and zooming around the Capitol grounds, that's always pretty too."
How do you see yourself using them? "Yeah, maybe going to Royal Blue, going to get a coffee in the mornings or go and grab some tacos for breakfast."
Do you have a bike of your own? "Frankenbike really, just a bunch of random parts lying around just put together."
Favorite bike memory: "Just riding around with my dog in my backpack, that's my favorite bike event."
Nikelle Meade
"I'm a lawyer, I am from Houston originally but I've been in Austin since 1988."
Where do you like to ride? "My favorite thing is actually to go to the Veloway to ride, out by the Ladybird Johnson Wildflower Center. I don't love riding on the streets because I'm not that great of a great cyclist, so I like to go out to the Veloway, so that's my favorite place to ride. "
Do you like riding downtown? "You know, downtown is actually not too bad, the car traffic is moving a little bit slower, so I think riding downtown is fine and it's pretty flat."
Favorite bike memory? "When I was a kid, we got really into motocross bikes, so we actually used to compete in motocross cycling, so that's something that my brother and I did as a hobby when I was a kid."