Michael Andersen, Green Lane Project staff writer
It's safe to say that Portland has found a way to solve the problem it's been having of people getting confused about the line between a sidewalk and a sidewalk-level bike lane.
Its answer: lots and lots of green.
Here are some pictures of the raised bike lanes on Southwest Moody Avenue in 2013: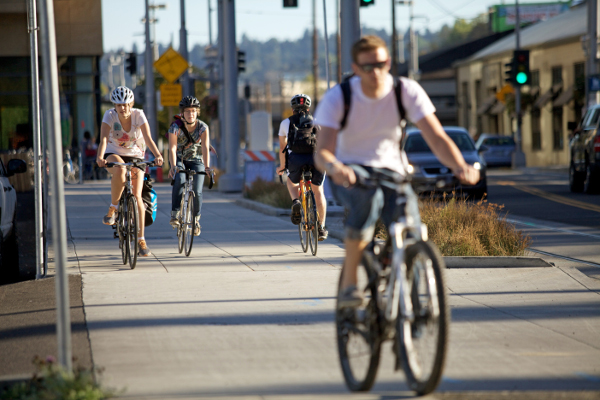 Comfortable separation between bikes and cars? Yes. Confusing interactions between people walking and biking? Also yes.
Now, here's what a once-similar section of the same street looks like as of last week:
Like what you see? This might be the most impressive example in the country of how bike infrastructure can benefit when a transit agency sees biking as inherently integrated with its goals.
The new textured green coloring was finished two days before TriMet, the local transit agency, offered its first preview of the new bridge that's just across the street: a 1,700-foot crossing of the Willamette River that will carry trains, buses, streetcars and people biking and walking, but no private cars.
Before this month's changes, Moody already arguably had Portland's most comfortable bike lanes. But they always had a problem: people didn't seem to respect the big painted circles on the ground indicating where people on bikes and people walking were supposed to go.
Part of the reason: uneasy about running a bike lane between the sidewalk and the transit stop, the city and TriMet at one point pushed bike and pedestrian traffic to switch places on the street, crossing one another's paths.
The new design, however, handles the transit stops well. As in many other cities around the world (including Portland's West Coast peers Seattle and San Francisco), Moody's bike lanes now run behind the transit shelters while leaving ample space for people to wait at the stop and markings showing people on bikes where to yield to people crossing toward the stop.
Fetsch said the project didn't come cheap: $310,000 for barely a mile of roadway, paid for almost entirely by the light rail project that also built the bridge. (It certainly helped that TriMet's $1.5 billion rail line, which was half-funded by the federal government, came in tens of millions of dollars under budget.)
But costs aside, you'd have to have a heart of stone not to appreciate the results. With this project, Moody emerges as almost certainly Portland's best street to bike on, and the neighborhood it serves (known as the South Waterfront) has the potential to be one of the country's most bike-friendly neighborhoods as it continues to develop. By helping making car ownership feel completely optional in the area, these new and improved bike lanes seem certain to be great for transit ridership, too.
The Green Lane Project helps U.S. cities build better bike lanes to create low-stress streets. You can follow us on LinkedIn, Twitter or Facebook or sign up for our weekly news digest about protected bike lanes. Story tip? Write [email protected]
We're part of PeopleForBikes. Follow the broader story of bicycling on Facebook and Twitter too.