Michael Andersen
The success of complete streets in Memphis has had a thousand parents, but some of them are more unusual than others.
As Tennessee's biggest city gets its latest dose of national recognition today for adopting the country's 500th complete streets policy, it's worth paying attention to the most remarkable thing about this city's transition to bike-friendliness: it's been driven mostly by private business interests.
Livable Memphis, a project of the nonprofit Community Development Council of Greater Memphis, has led the charge. The Hyde Family Foundations, which grew out of the fortunes of food distributor Malone & Hyde and auto parts retailer AutoZone, have written many of the checks. Even the urban planners who catalyzed Memphis's Broad Avenue bike lane work in the private sector: the two principals of Dallas-based Better Block were hired with private contributions to run a phenomenally successful weekend demonstration of how to remake the revitalizing arts district for foot traffic.
Those new bike lanes have been part of a shift that resulted in 37 new businesses, 30 significant property renovations, falling vacancy rates, rising property values and a constant flow of people walking on the street.
Moments of civic conviction like this one will always be rare. But when they work, they depend on a few remarkable people — one of whom, in Memphis, is Pat Brown.
For the sake of bike believers everywhere who'd like to capture Memphis's magic, let's look at some of the characteristics that have made Brown such an effective leader in Memphis's private embrace of biking.
She had skin in the game and a need to take risks.
Brown, 53, is the co-owner of T. Clifton Art Gallery. She and her business partner, Tom Clifton, stumbled into neighborhood organizing in 2008 when they found themselves staring into the teeth of the great recession.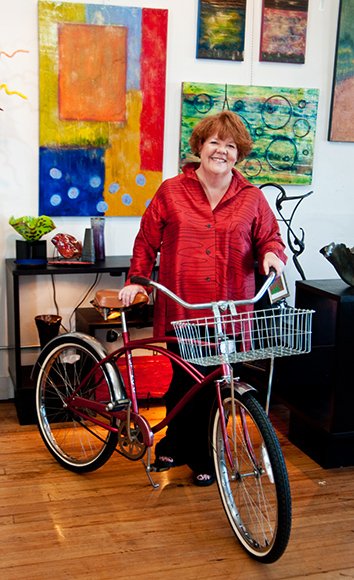 "We moved our business to Broad Avenue, my partner and I, because we were looking for cheap rent," Brown said. "That was our strategy — just find ways to hang on."
Brown, whose role is marketing and business development, could have focused on spreading the word about her art gallery. But the pair realized that her time would go further if she were spreading the word about its neighborhood instead.
"The best way we can grow our business," Brown said, "is to grow this street."
The result: for years, about half of Brown's professional time has been dedicated to getting people interested in her shop's neighborhood. And that's what led her to bicycles.
She knows her community all the way down.
The Broad Avenue Arts district, also known as Binghamton, has rebounded in part because it's still lined with two-story storefronts: the bones of the streetcar suburb it used to be. Brown knows its story and tells it well.
As she puts it, the "heart of Memphis," which Broad Avenue sits just east of, "fell into poverty during the Interstate 40 build."
"The community was literally split in half," said Brown, who speaks with Memphis's gentle drawl. The freeway ran through "what was once a thriving cultural community in the heart of the town, and that was destroyed."
As car dependence, race conflicts and inequality pushed Memphis's money into the suburbs, Binghamton's walkability became a liability, making it attractive to drug dealers and prostitutes. But as crime fell through the 1990s and 2000s, money started creeping back in — and people like Brown started looking for ways to soften the auto-oriented focus that had damaged the neighborhood before.
She's spent a lifetime building business skills, connections and credentials.
Brown's secret weapon might be that she's a total pro.
She spent 25 years at the locally based First Tennessee Bank, serving among other things as senior vice president of internet banking and finishing her time there focusing on "culture change" in the bank's human resources division, learning how to persuade her colleagues to make the most of modern technology.
"I learned to justify my products with showing, 'This is the impact we're going to have on customers,'" Brown said.
It's a skill that's translated well to persuading her neighbors and the city how a modern retail district works. Her recent presentation to the Tennessee bike summit could be a model for how to explain bikes in the native language of bankers: Powerpoint.
Not every city needs a Pat Brown, and Memphis itself couldn't have succeeded without many other advocates. But without picking up her own bike more than four or five times a month, this brainy businesswoman has become one of the country's most effective bike advocates. Every city should be so lucky.
An earlier version of this post described the Community Development Council of Greater Memphis as "business-funded." It's actually funded mostly by foundations and the government.