Michael Andersen, Green Lane Project staff writer

Can you place the winning street?
Nine cities. Nine intersections. One hour.
How many cargo bikes?
That was the question PeopleForBikes asked a selection of the country's best bicycling cities last Thursday. It's the first step in our eight-month quest to find the best U.S. city for an activity we like to call "everyday biking": casual, utilitarian trips to get around town.
To explore that idea — and, of course, to answer the age-old question of which town is most awesome — we found nine collaborators around the country to choose a location in their city and count both the number and the ratio of cargo bikes that passed by from 4:30 to 5:30 p.m. (The challenges will change each month. For May, participating cities will be counting baskets, racks and buckets; for June, skirts and dresses.)
The competition was stiff. Let's start with Portland, Oregon, where our contact Carl Larson of the Bicycle Transportation Alliance threw his city's hat into the ring by saying only half-jokingly that Portland would "be happy to crush all other cities in this challenge."
And indeed, no other city came close to the volume of bike traffic that Larson and his colleague Sarah Newsum tracked in one hour while sitting outside the bike-friendly Waypost bar on North Williams Avenue. Their 400 tally marks broke the chart:
Unfortunately for Portland, though, this challenge isn't just about counting bikes, but about a particular type of bike. Larson and Newsum caught 13 cargo-equipped bikes in an hour — still an impressive sum.
Another city posting impressive numbers in this first outing was Atlanta, where Atlanta Bicycle Coalition team member Haydée Santana observed a whopping 175 bikes pass by in one hour on 10th Street, which boasts one of that city's first protected bike lane projects.
Of those, six bikes were cargo-equipped with front boxes, long tails or trailers.
Then there was Tucson, the longstanding biking capital of the American Southwest. Evren Sonmez of the Living Streets Alliance camped out Thursday at 4th Avenue and the University Boulevard bike boulevard, and saw 202 bikes pass by, second only to Portland. Of those, an impressive 17 were cargo-ready.
That was the highest raw count of any city — so if all we'd been doing was measuring the total number of cargo bikes, we'd be handing the first monthly prize to Tucson.
However, for this challenge we're looking not only for cities where there's a lot of everyday biking, but at cities where there's a disproportionate amount of everyday biking. Which is what brings us to Memphis.
Anyone who knows our Memphis contact, city Pedestrian and Bicycle Coordinator Kyle Wagenschutz, will tell you that he's not a good man to underestimate. And from the looks of this video he provided, Wagenschutz (who is himself pedaling the first cargo bike that goes past) apparently took to heart our declaration last month that "running up the score will be encouraged: locations will be public, and local bike lovers should feel free to rally friends to represent their turf. Everyday biking is all about community, after all."
Sharp-eyed watchers will count seven cargo-ready bikes passing Wagenschutz's chosen location, Broad Avenue and Cumberland Street, out of nine observed on the street in that hour. In other words, cargo bikes were 16 percent of the 56 total bikes that went past.
We knew, looking at these figures, that a tight race was shaping up between Memphis and Tucson. Here's how we combined them: we took our two metrics (number of cargo bikes and proportion of cargo bikes) and graded each one on a curve, just like in chemistry class. The top-scoring city in each category got 100 points and other cities got points in proportion to their own relative scores. Then we averaged the two equally-weighted scores.
Here's how it came out: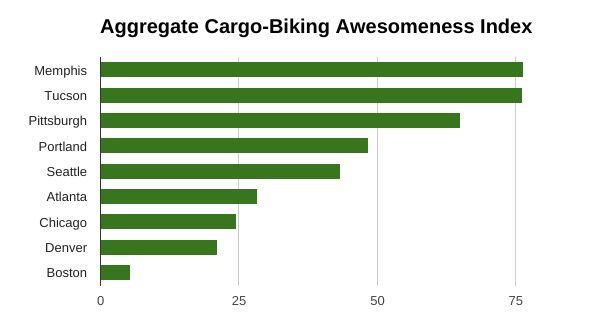 Memphis finished with 76.5 points. Tucson finished with 76.2. It was a photo finish, but we had a winner. Memphis, Tennessee, pedals away with this month's title.
Will Wagenschutz and his intrepid companions be able to keep this up? Will other cities imitate their tactics? A look over the next few contests has us wondering.
May: racks and baskets (bonus points if they're carrying flowers)
June: skirts and dresses
July: Lycra or other spandex kits
August: kids on bikes (passengers included)
September: business attire (jackets, blouses, ties, office-friendly skirts and dresses)
October: costumes
November: beards
We'll find out next month. Don't touch that dial.