Zach Vanderkooy, International Programs Manager
Welcome to North America! You might know us as the folks who brought you William Shatner, football with helmets, and Scooby-Doo. But when it comes to bike lanes, we're just now learning the ropes.

New York City's 8th Avenue (Image: NYC DOT)
Here in the States and Canada, even professional street designers often trip over language when they explain the different ways to make a street right for biking.
That's why our team at the Green Lane Project spends a lot of time thinking about how we describe the types of new-school bike lanes cities are creating. Clear language and distinctions between different kinds of lanes helps get more people enthused about them, which leads to more lanes on the ground. That's a good thing, because better bike lanes improve the bicycling experience for everyone.
The terms and definitions of modern bike lanes can be confusing — but that's often true of anything that is new and quickly evolving. A new generation of bike lanes are changing the way it feels to ride on busy streets, and they're changing the way our cities work.
Here's a brief guide to four different types of American-style bike lanes and their accessories, from bollards to merging zones.
Protected bike lanes.
Also known as cycle tracks, sidepaths or separated lanes. To us, they're simply better bike lanes.

A protected bike lane on Chicago's Kinzie Street
Protected lanes are places to ride on streets that have some type of physical barrier between moving cars, bikes, and sidewalks. They've been a staple in other bike-friendly parts of the world for decades, but they're new to America. Along with bike sharing, they're helping to make bicycling an appealing option for a whole new range of people. Here's why: streets with modern protected bike lanes are inviting to people who just don't feel very comfortable with only 5 inches of white paint between them and fast-moving cars and trucks. (That's most of us, whether we ride regularly or not.)
Generally, protected lanes have been hugely popular wherever they've been installed. And here's the best part: it's not just people on bikes who like them; they make the whole neighborhood better. People driving cars like them because they help create order and predictability on the street, pedestrians report fewer bikes on sidewalks, and there's growing evidence that businesses thrive on streets with protected lanes because they help create vibrant, attractive places where people want to be. No wonder the number of protected lanes in America nearly doubled in 2012, and is on pace to double again by the end of 2013.
Protected bike lanes work together with quiet neighborhood streets, off-street paths, and conventional bike lanes to create a safe, comfortable and convenient way to get around town. They come in two basic varieties:
One-way protected bike lanes

A one-way protected bike lane on Portland's NE Multnomah Boulevard
Typically found on bustling streets with lots of traffic and different activities, one-way protected lanes work best in places where people want to go, but riding a bike is just plain stressful. One-way protected lanes come in many different styles, but have one thing in common; some type of physical barrier between moving cars and bikes. Sometimes the barrier is a vertical post (also called a bollard), other times landscaping, curbs, a small difference in pavement height, or rows of parked cars. When designed well, they make riding a bike feel like it should; safe, pleasant, and comfortable.
Two-way protected bike lanes

A two-way protected bike lane on Washington D.C.'s 15th Street. Photo: Stewart Eastep.
Usually found along wide, one-way streets, two-way lanes allow people on bikes to comfortably travel in both directions on one side of the road. Though they're not as common across the Atlantic, American cities love the qualities of two-way protected lanes; they're inexpensive to build, they don't use much space, and they work well on streets with lots of buses because bike riders and people getting on and off the bus don't need to be on the same side of the street. Because two-way lanes are essentially a small street within a big street, the design is particularly complicated. Cities are learning fast, often using special bike signals and markings at intersections to keep everyone moving safely and efficiently.
Buffered bike lanes

Philadelphia's Spruce Street buffered lane. Image: Kyle Gradinger
A cousin of the conventional bike lane, buffered lanes use extra paint and pavement space to add a little bit of breathing room between moving bikes and cars. We prefer protected lanes whenever possible, but buffered lanes can be built more quickly and inexpensively, while making riding on a busy street safer and more pleasant. An added bonus: they make it easier for faster cyclists to pass slower ones.
Conventional Bike Lanes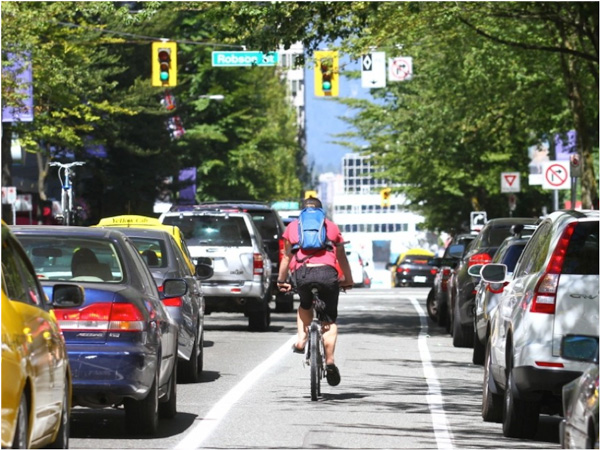 A conventional bike lane in Vancouver, B.C.
The conventional bike lane has been a part of North American street vocabulary for more than three decades, and is still the type of bike lane you're most likely to see on Main Street. Found on streets of all shapes and sizes, they use a simple, inexpensive stripe of paint to designate space for people on bikes. They can be effective on two-way streets with slower traffic, but they don't offer the same level of comfort as a protected lane, especially for kids and less experienced riders.
The rise of better bike lanes
Hand-in-hand with the design renaissance of bike lanes, traffic engineers are developing a multitude of tools to make intersections work better, including bicycle-only traffic signals, stripes of green color through the crossing, bike boxes, and merging zones (where a protected bike lane converts to a conventional one). There's certainly a lot more work to be done, but the rise of better bike lanes is just one more reason to be optimistic about the future of bicycling, American style.